Ratua Island Resort & Spa are extremely excited to announce the launch of our new and improved website.
This much-anticipated site allows us to truly share the wonder and beauty of the luxury island, one of Vanuatu's best-kept secrets.
The new site is just part of our magical overhaul, including rebranding, a new name, and a new appeal to international guests.
Paradise Is Just A Short Flight Away
At only two and a half hours from Brisbane, and with its stunning natural surroundings, adventure-filled activities, and genuine island hospitality, Ratua Island Resort & Spa is the perfect destination for enthusiastic adventurers, nature lovers and those who just want to relax completely and forget the world.
Boasting thirteen restored 200-year-old Javanese wooden villas and two deluxe beachfront marquees, Ratua Island offers a barefoot luxury escape where the locals are the true custodians of your island adventure.
Walk hand-in-hand along the island's many private beaches or indulge in our exceptional organic and locally sourced gourmet cuisine. With its charming, authentic character and unique island experience, the resort is the perfect backdrop for weddings, honeymoons, family holidays, or corporate breaks.
Coral Reef Spa
Is there a better place for a spa treatment than on top of a beautiful lagoon?
Our incredible spa treatments will relax the body and soothe the mind as you are pampered by our professional beauty therapists, with treatment products all sourced from local, organic products made right here in Vanuatu.
With the sound of the water lapping under you and the tropical fish swimming past, you might just think you've reached Nirvana!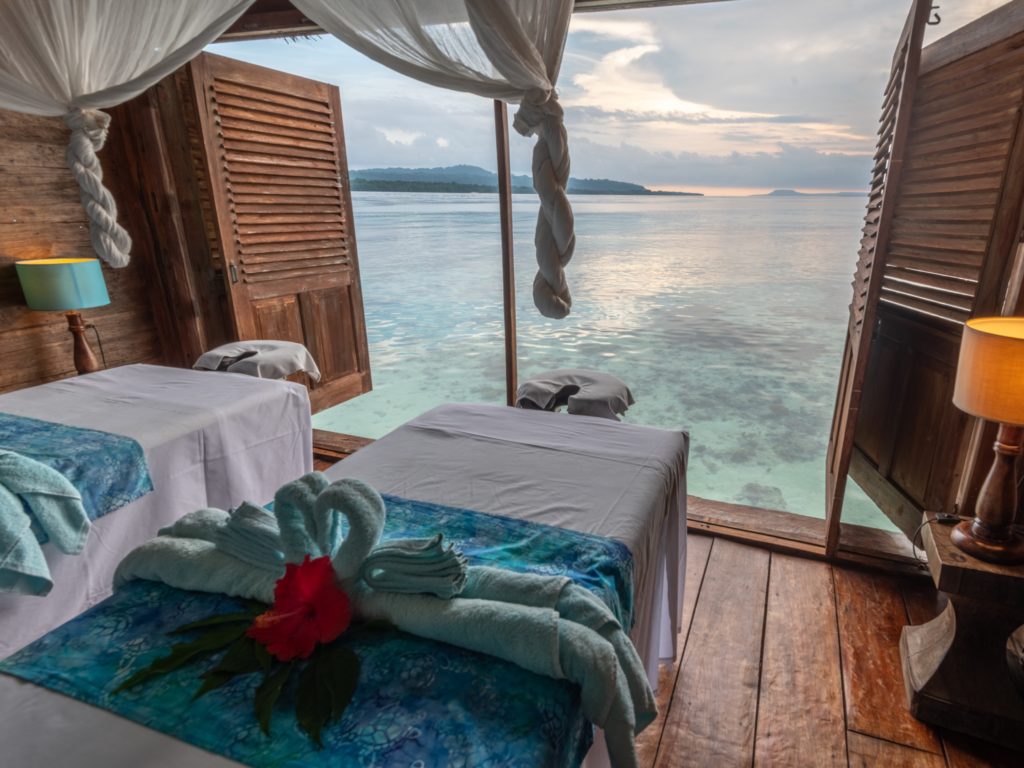 Activities And Adventures
The Island isn't just the perfect place to relax and unwind. For the more adventurous types, there is plenty to keep you occupied.
Within the stunning coral reefs and lagoons surrounding the island, lies an abundance of sea-life to be explored. Swim, snorkel or paddleboard in the calm, crystal-clear waters, or jump in a kayak and explore neighbouring Malo Island's incredible rainforest lagoon.
If water isn't your thing, then back on land we have an unforgettable horse-riding experience for you, along with mountain bikes or walking tours with an experienced local guide.
Helping The Community
Ratua Island Resort & Spa is run and operated as a 100% non-profit business, on behalf of the Ratua Foundation.
The Ratua Foundation is an independent, apolitical and non-religious organisation, with a goal to improve the educational conditions of the children of Vanuatu.
We are proudly responsible for the 'One Child, One Bag' program, which distributes backpacks filled with school stationary and educational tools across the entire nation of Vanuatu.
The Ratua Foundation actively supports different projects which assist with issues such as schools, books, infrastructure, water and electricity networks, helping local communities with everything from education to communication.
Ratua Gives You The Holiday Of A Lifetime
Ratua is the land that time forgot.
One of 83 islands in the archipelago, Ratua is the jewel in the crown of Vanuatu. With 146 acres to explore, the island is the perfect holiday destination, and with a maximum of 42 guests allowed at any one time, you're always guaranteed to have your own private beach.
With gorgeous tropical fish swimming by, the occasional dugong popping up to say hello, and even baby sea turtles hatching on the beach, Ratua Island is a slice of paradise, and it's all here, just waiting for you.
If you are looking for perfection, you may have just found it.
Take a look at our range of stunning accommodation options here.
Or book your break in paradise here.
We look forward to seeing you.