Ratua Private Island Resort
Ratua is one of 83 islands in the Vanuatu archipelago and is located in the northern group next to the largest island in Vanuatu called Espiritu Santo. Safely protected between Malo and Aore islands, Ratua features 146 acres or 60 hectares of unusually gentle topography for a Vanuatu island. The entire island is available to explore. Ratua is the only private island in Vanuatu with an 800-meter runway, which is less than 5 minutes by air from Santo International airport and 30 minutes with one of our 4 transfer boats.
Once on the island you fully grasp the organic experience that our past customers keep coming back for. The whole island enables our customers to feel cradled in nature by the environment that has been preserved for a maximum of 42 guests to enjoy as nature intended.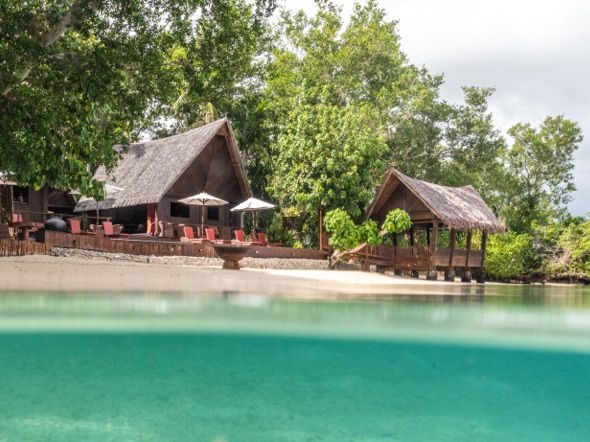 Ratua Island
Guests can explore the entire island by foot, car, bicycle or one of our 14 trained horses. Most of the island amenities are centrally located just a short walk from the yacht club. There are 3 villages that offer 15 individual villa style homes handcrafted from 200-year-old teak wood with indo-Oceania inspiration and all have their own private beach setting.
At the end of south village there is a large covered yoga deck directly over the water. In the middle of west village there is our overwater Coral Reef Spa accessed by a walkway over a lagoon. Central to the resort is the ornately carved billiards room with comprehensive library and large screen TV for watching live sporting events from anywhere around the world overlooking a pond. Also there is a quaint home theatre room with 16 luxury chairs and comprehensive video library. The resort offers many watersports for our guests including kayaks, canoes, stand up paddleboards, sport boat for skiing or ski biscuit rides etc. At the opposite end of the resort is the beachfront volleyball court, regularly enjoyed by guests and staff alike.
Marine life at Ratua
The crystal clear turquoise lagoons and ocean that surround Ratua are a marine reserve instigated by 15 years of private ownership. The result of this is abundant fish life, breathtaking centuries-old coral of all varieties directly in front of the Yacht club and dozens of resident sea turtles and some very old and large specimens. These can easily be approached by one of our kayaks, paddleboards or snorkeling up to them. February/March is when the baby turtles hatch around Ratua's many sandy shores. 
Much of Ratua foreshore has some very large ancient native trees that are spectacularly sheltering the many sandy beaches. The middle of the island boasts a mature coconut plantation from which we derive fresh coconuts for our guests along with organic coconut oil for the kitchen.
Truly Ratua is the land that time forgot.
Our own farm provides much of the organic produce for our kitchens. We raise our own beef cattle, pigs, goats, chickens, and sheep. We have a large organic garden and orchard that provides fresh produce for our guests. 
The Ratua ranch has 14 well-trained horses for our guests to enjoy. 2 of our expert wranglers will take around the entire island for a ride exploring the coastline and fauna. A famous feature that our guests tell us is unique in the world is swimming with the horses! Yes, 6 of our horses are trained to swim across the lagoon close to Fish village with you hanging onto the horse as it swims. This is a must do experience that you will never forget.